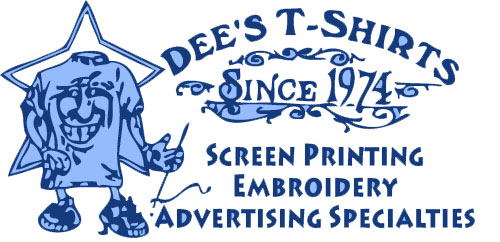 Frequently Asked Questions
FAQs
If you do not find the answer you are looking for in our Frequently Asked Question section plase call us at 561-842-5800 or email us at deestees@bellsouth.net.

How much will items cost?
There are many variables which determine price. Item, quantity, print or embroidery, number of colors, number of locations that need to be decorated. For an accurate cost, we need to know all those variables.

Minimum order requirements?
For a one color print design, minimum order is 12 pieces. Embroidered is 12 pieces (even multicolor) multi color print orders, please call.

Reorder policy?
Minimum requirements do apply. You will not have to pay the screen charges or digitizing charges again if you re-order the same design within 3 years. Files will be destroyed after 3 years.

When & how to pay for an order?
New orders require a 50% deposit and the balance on pick up unless other arrangements are made. Checks and cash are welcome, we also accept PayPal. Contract customers can apply for net 30 terms.

How long to complete an order?
For screen printing, the normal turnaround time is one week. For embroidery its one to two weeks. Some weeks are busier than others so its always good to check. Rush orders are available as well, please ask. The clock starts ticking once we receive all relevant info, item details, sizes, qty, ready to use art file or the ok for us to produce.

How can I receive goods?
You can pick up at our facility at 2120 Broadway, Riviera Beach Florida or we can ship out UPS, FedEx or DHL. We also use freight Carriers for large orders.

How do we need to receive artwork?
(click here to view the recommended file formats) We work with vector art files for printing. We need to be able to separate your art if it is multi color. Many clip art services do not allow this process. See Art Requirements for more details. Properly prepared artwork is critical for best quality of your product.

Is there a charge to create my artwork?
Simple typesetting has a minimum charge of $10 per location. More complex designs will need to be discussed and quoted. Custom art is billed at $40/hour

What are the set up costs for?
For screen printing you will pay a one time screen charge to make your stencil. Each color used in your design, requires its own screen. For embroidery we need to digitize your design – basically a disk containing the program to stitch out your design, again a one time fee. Screens remain property of Dee's T-Shirts Inc. There is no physical screen you can take with you. Cost is for labor involved in creating.
Contact Us
Address: 2120 Broadway, Riviera Beach, FL 33404
Telephone: 561-842-5800
FAX: 561-842-5800

E-mail: deestees@bellsouth.net